Play now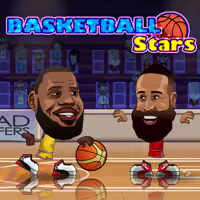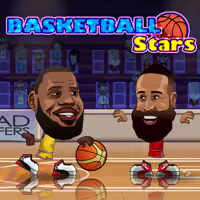 Basketball Stars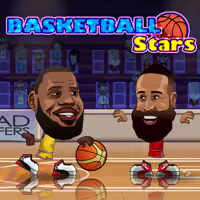 Basketball Stars
Basketball Stars
Basketball Stars is a 2-player basketball game created by Madpuffers. You can play solo or with a friend as a variety of legendary basketball players. Shoot b-ball with the likes of LeBron James, James Harden, and Stephen Curry in Basketball Stars!
How to play Basketball Stars
Team up with your friends cooperatively or play solo in 1v2 and 2v2 basketball games. You can also play head-to-head. If you're playing seriously, join tournament mode and scrap your way through the heats to become the ultimate b-ball legend.
Basketball Stars stays true to the sport, with three-pointers, alley-oops, and other moves that score you impressive points. Dash around and do epic jump shots to keep your opponent on their toes.
Each player in Basketball Stars has a unique ability, such as mega dunk, defense, and fast break, so pick a pair that brings home the trophy for you.
Player One
WASD - Move
B - Shoot/Perform action
S - Pump
V - Super-shot
D twice - Dash
Player Two
Arrow keys - Move
L - Shoot/Perform action
DOWN Arrow - Pump
K - Super-shot
LEFT Arrow twice - Dash
More Games
If you like Basketball Stars, check out the next game in the series, Basketball Legends 2020. For an alternative basketball title check out BasketBros or Basket Champs. Browse our basketball games for more.
Who created Basketball Stars?
Basketball Stars is created by Madpuffers. They are also the creators of the Moto X3M series as well as Football Masters and more.